As the world continues grappling with financial and energy crises caused by COVID-19-related economic problems, investors have developed a very cautious approach to multiplying their savings. One effective method to protect one's assets and earn more is to join a stable PAMM account provider. We recommend choosing a provider who will adequately assess the trading situation in November and turn it in their favor, making use of fluctuations in various currency instruments' rates. This last autumn month, we bring to your attention the most promising and profitable investment accounts on the FXOpen platform.
This PAMM account provider has been trading crypto since 2018. Despite periodic dips in profitability, they are still showing enviable results and stability. In October, they earned 51.92%, which covered any earlier mishaps. In November, they are trading actively, mainly in crypto pairs: Bitcoin, Litecoin, Ethereum. In October, there was some drawdown, but as of November, it was subdued. You can still join this manager's PAMM account for 100 USD.
This provider has been trading on the FXOpen platform since December 2019 and can easily be called stable and profitable. September proved to be less successful for them, but they were able to work off the slight drawdown in October, earning 15.88%. And for the year, the account's profitability has reached over 70%. This manager mainly trades AUDNZD and NZDCAD. Since the account's launch, the maximum drawdown has yet to exceed 17.15%. In October, the maximum deposit drawdown reached 14.02%; at the time of writing this report, no drawdown was observed. You can join this account with a minimum of 200 USD; the fine for early withdrawal is 5%.
This manager registered their FXOpen PAMM account in February 2020, and can already be named a stable potential long-liver. Trading in a conservative manner, in October, they earned 2.06%. In September, a small and rare drawdown was observed, which has almost been covered by now. The max drawdown on the account has yet to exceed 10.19% (this max was recorded in October); the deposit load did not exceed 10.66%. Their main trading pairs are GBPUSD, USDCAD, and EURUSD. Most likely, this account is using an EA, seeing such a large number of open trades. You can join this provider for at least 100 USD.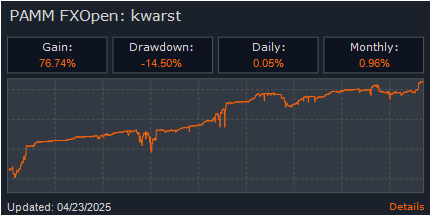 This PAMM manager has been with FXOpen since 2019. Their trading style may appeal to investors who prefer going long. IPFx2 prefers #NDXm. October turned out to be a very productive month for them, with +34.77%. In 2021 so far, we can observe a stable return of about 81%, which is a stronger result compared to the previous year. You can join this PAMM account manager with as little as 1 USD.
This provider has been with FXOpen since October 2020 and stands out thanks to their stability and a fairly effective system. In October, this provider earned 50.94% — but the maximum drawdown was also significant, albeit short-term, at 37.97%. At the time of writing this review, no drawdown was observed. The trades are open. You can join this manager with just 1 USD.
This PAMM account provider registered on the FXOpen platform back in March 2020 and can be safely called a stable trader, despite small occasional drawdowns during the year. In October, they earned +3.65%; the short-term drawdown did not exceed 4.78%. At the time of this writing, a small working drawdown of 1.64% is observed. Over the past month, this provider has been trading mainly in GBPUSD, CHFJPY, USDJPY, EURCHF. You can join them for just 1 USD.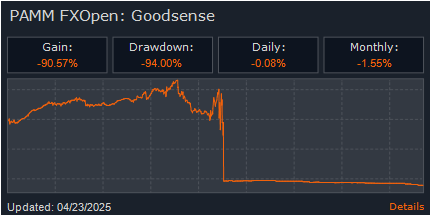 This provider may pique your interest with their profitability. Their trading stats trace back to 10/01/2019. This provider prefers only two instruments, #NDXm and #NDXM. In October, +79.84% in profit was recorded. The deposit load did not exceed 15.74%. Their trading can be described as moderately aggressive. You can start following this PAMM account for 1 USD.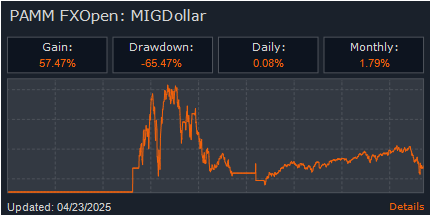 This provider has been with FXOpen since August 2019, that is, for more than 2 years. During this period, they have managed to keep the maximum drawdown at 31.95%. In October, they earned 10.86%. At the time of this writing, the deals are open and a slight drawdown is observed, but the deals are gradually growing in yield. This trader uses a 1:100 leverage.
This FXOpen PAMM account manager has been active for a year now, since October 2020, and can be described as one of the most promising managers despite suffering some setbacks during the summer period. However, they managed to liquidate the drawdown. In October, this account earned 1.57%. The start of November is already looking quite promising with a yield of 25%. If we analyze the daily equity, we will see that this provider prefers going long, since the deals are always open. In October, their maximum drawdown was quite significant, but by November, it has become virtually non-existent. You can join this manager's offer for 50 USD.
This provider has been with FXOpen since February 2021, showing fairly stable trading dynamics. Since the start of their activity, they have earned 92%, and in October, brought their investors 4.25%. This provider prefers trading gold, silver, GBPJPY, and GBPUSD. The max drawdown for the entire time has yet to exceed 2.85%, and in October, it did not exceed 0.37%. The deposit load is also very conservative. You can join this provider for 10 USD.
Now you are all caught up with FXOpen's most lucrative PAMM providers as of November 2021.
To follow a PAMM provider, all you have to do is REGISTER on the FXOpen platform ➜ OPEN an investment account ➜ CHOOSE your provider, and offer ➜ BECOME a follower.
And here is a gentle reminder from FXOpen: drawdowns are inevitable, but you must diversify your investments. We wish you the best of luck with your trading!
PAMM is not available for clients of FXOpen EU and FXOpen UK or residents of Australia.