FXOpen's TOP-10 April 2022 PAMM Accounts
FXOpen would like to encourage all traders, managers, and investors to enjoy the warm and sunny days! During the active phase of spring, one may feel less inclined to engage in troublesome business, but capital always requires one's attention and composure. Therefore, even on such days, it is important to take into account the ongoing changes in the FXOpen PAMM rating. Our number of excellent providers is growing steadily, and this latest PAMM review can help you figure out which accounts will prove to be the best for your investment strategy.
As of May 2022, 137 PAMM accounts have been launched on FXOpen's platform with a total capital of 2,650,814 USD.
Inspecto is a fairly stable provider that has been active for almost 2 years. The maximum drawdown for the entire period of operation has yet to exceed 17.56%. At the same time, the yield looks very attractive: in April, this trader earned +13.46%, loading the deposit by a maximum of only 2.2%, allowing a drawdown of no more than 1.38%. The choice of trading instruments is quite extensive, but preference is given to cross-pairs. Drawdowns, should any occur during the week, can be called rather conservative, while profitability is already approaching moderate levels. One can join this provider for 50 USD.
This stable and conservative provider has been trading for a long period with generally positive results. Since 2022, their trading has leveled off, and there are no significant losses observed. In April, the account earned 1.09% with a maximum drawdown of 0.62%, and a deposit load of 1.1%. It is possible to join this PAMM master's offer for 20 USD. Their offer, even with a low yield, can be called profitable: 75% of the income on the account is received by the investor.
The account has been active since January 2016. This manager trades exclusively gold, and their account is considered to be one of the most successful, long-running, and profitable on the FXOpen platform. In 2022, this provider achieved noticeable positive results, and in April was able to earn 30.52% of profit. But it is worth noting that the loading of the deposit is impressive as well: the max drawdown in April reached 10%. This manager's trading can hardly be described as moderate, but instead rather aggressive. But their long career with FXOpen can still be seen as fascinating. At the time of writing the review, no floating drawdown is observed.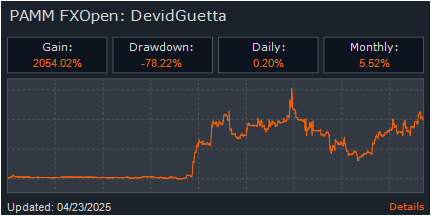 This trader has been active since 2019. The maximum drawdown on the account since its opening has yet to exceed 8.20%, which indicates the trader's experience and success. Most likely, the trader is conducting long-term trading. In April, this provider earned +8.43% of profit with a minimum drawdown and deposit load of 2.84% and 2.37%, respectively. You can join this provider for 50 USD.
FastWay is one of FXOpen's most stable providers, having operated for over 2 years. The peculiarity of their trading is in the fact that their profitability is one of the highest during the year, and the maximum drawdown does not exceed 17%. This manager has long enjoyed the investors' interest, and their number of subscribers is growing steadily. In April, the maximum drawdown did not go beyond 9.73%, and earnings amounted to 7.45%. FastWay mainly trades cross pairs: AUDNZD, AUDCAD, and NZDCAD. You can join this provider for at least 200 USD.
This provider has been trading on the FXOpen platform for over 1.5 years, having launched their account in November 2020. The past months were memorable for decent returns, but almost zero in April (-0.32%); but the prospects for earnings in May remain. Trading is still in progress, transactions are open. Since the beginning of the year, this provider has been able to earn about 70%. Their trading cannot be called conservative but is quite moderate. It can be noted that this trader controls the situation and strives to prevent large drawdowns. The trading leverage of 1:100 is set on the account. The minimum investment amount starts from 250 USD. The early penalty remains at 5%.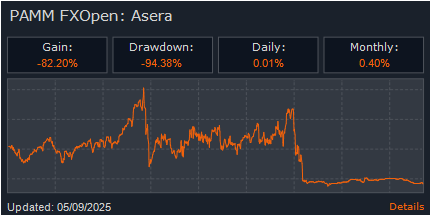 haft8 has been trading EUR, having launched their account in April 2021, making it over a year old. This provider's trading style can be described as stable: since the beginning of the year, we have observed a positive trading trend. In April, earnings amounted to 21.82%. The main trading pair is EURUSD. The maximum drawdown was recorded at the beginning of April and amounted to 11.87%. It is difficult to call the deposit loading moderate at 45%. It is worth remembering this point before considering this PAMM account as an investment. The minimum amount to join is 1000 USD.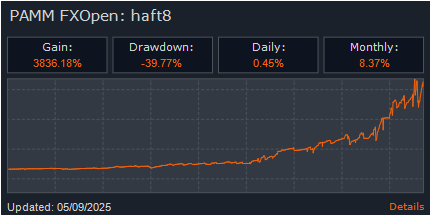 Another newcomer in our ranking — although they can hardly be called a newcomer to trading with FXOpen, having launched their account in March 2021. The provider's account is in EUR. The stability of their trading is also encouraging, even with the maximum drawdown reaching 45%. In April, this provider earned 4.75%. Tercier trades aggressively with a high deposit load but often earns a corresponding profit. At the time of writing the review, there are several open deals. The minimum investment amount is 100 USD.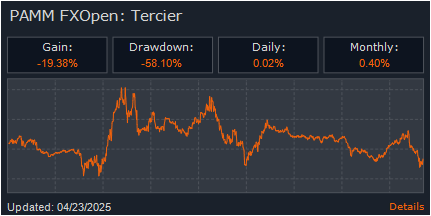 This trader launched their account in June 2020. The maximum drawdown of 28.52% occurred a long time ago. The yield is quite attractive, so the number of subscribers is growing. In April, the profitability of the account amounted to +14.12%. The main trading currency pair is NZD/CAD. At the time of writing the review, no floating drawdown is observed. The standard amount for joining this provider is 1 USD. There is no penalty for early investor exit.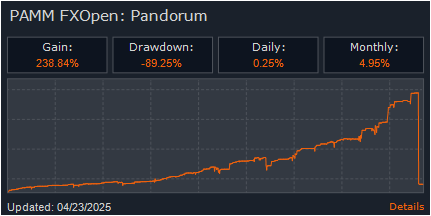 This provider has been trading since February 2022, but after just 3 months of operation, their trading style can be called attractive for their stable profit. Since the beginning of the year, more than 54% of the profit has been earned. The maximum drawdown has yet to exceed 17.32%. The account leverage is set at 1:100. This provider's profitability in April amounted to +31.68% with a maximum deposit load of 22.23%. It is worth noting that this provider most often trades the GBPUSD and AUDUSD pairs. At the time of writing the review, no drawdown is observed. You can join the offer for 1 USD.
The above were FXOpen's top 10 most profitable PAMM providers to consider adding to your portfolio in May. Just remember: no account operates with no drawdown, but it is still important to diversify your investment portfolio. We wish you the best of luck in choosing what to invest in!
Interested in following one of FXOpen's most successful PAMM managers? Register on our platform ➜ Open your Investment Account ➜ Choose your provider and offer ➜ Become a Follower.
PAMM is not available for clients of FXOpen EU and FXOpen UK or residents of Australia.
This article represents the opinion of the Companies operating under the FXOpen brand only. It is not to be construed as an offer, solicitation, or recommendation with respect to products and services provided by the Companies operating under the FXOpen brand, nor is it to be considered financial advice.