FXOpen's TOP-10 August 2021 PAMM Accounts
The world is still struggling to prevent the spread of COVID-19 and mitigate the repercussions of economic activity deterioration. Currency pairs and other trading instruments have become highly volatile. Investors are wary of drastic moves and are choosing the masters who are most likely to adequately assess September's trading situation, turn it around in their favor, and make good money thanks to fluctuating rates of various currency instruments. In this PAMM review, FXOpen presents  for your consideration yet another list of the most promising and profitable investment accounts.
As of September 2021, FXOpen has 150 active PAMM-accounts, with  $2'925'824 of subscriber funds invested. And if you would like to try your hand at managing a PAMM-account, we are glad to remind you that FXOpen is hosting its Money Managers contest! Registration closes on October 3, 2021. Test your managing skills and win a monetary prize out of the $10,000 prize fund!
And now, on to the top 10 PAMM accounts that demonstrated the most promising results in August 2021.
This PAMM manager's account was registered just over one year ago in August 2020, and that year of trading was really successful. Since the beginning of the year, their profit has reached 125%. In August, the profit was +1.9%, but September will likely prove to be more fruitful. At the time of writing this review, a small floating drawdown can be observed. We recommend adding this manager to your watchlist for now. In August, the deposit load did not exceed 6%, and there were no losses. The main trading pair is EURUSD. The provider's standard offer for joining is $500, with a 10% penalty for early withdrawal.
A new PAMM manager of fewer than six months on the FXOpen platform. Their trading is stable, and the drawdown during the entire time has yet to exceed 19.78%. The profitability of the account is quite impressive. In August, they earned 35.21% with the maximum drawdown and maximum deposit load of 8% and 10%, respectively — the XAUUSD deals were especially successful. At the time of writing this review, all trades are open, the account drawdown is less than 1%.
This PAMM crypto-account was registered back in June 2018. The beginning of the year was not very kind for this manager, but in overall terms, they have already entered a positive zone. In August, nepgusd yielded 39.58%, effectively neutralizing the previous two months of drawdown. In September, the account is trading actively, all trades are currently open. This manager prefers cryptocurrency pairs such as Bitcoin, Litecoin, Ethereum. Since the beginning of the year, the profit has grown to reach over 150%. You can join this manager for $100.
This account was registered in October 2018 and can be considered a long-liver despite its quite non-conservative trading style. Moderate drawdowns do occur, but the profit is generally substantial. In August, this provider earned +11.11%, and 35% since the beginning of the year. Their offer is simple: join with $50 and pay no fine for early withdrawal. In September, however, a floating drawdown can be observed, so we recommend monitoring the situation.
This manager registered their FXOpen PAMM account in December 2019 and can be described as a stable and profitable trader. The maximum account drawdown for the entire time has yet to exceed 17.15%. An impressive achievement for more than a year of trading. In August 2021, the maximum deposit load was 8.25%, while the drawdown was kept to a minimum of just 0.12%. Over the past month, the provider earned 6.66%. They are successfully trading their main currency pair, AUDNZD. You can join the account with a minimum of $200; the fine for early withdrawal is 5%.
This PAMM account master has been actively trading since February 2020, making their account 1.5 years old and one of FXOpen's long-livers. The trading style is conservative. In August, they earned 0.19%. In the rare case of a drawdown, it is almost immediately neutralized. The maximum drawdown for this PAMM account in August did not exceed 2.85%. The deposit load was no more than 5.57%. This account's main trading pairs are GBPUSD, USDCAD, and EURUSD. Trading is most likely carried out by an EA, seeing a large number of open trades. You can join this PAMM master with $100.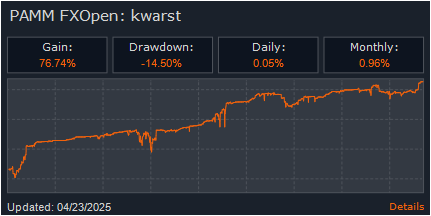 The account was registered in 2019 and is still very beneficial for long-term investors. Trading is carried out exclusively with #NDXm in the long term. August proved to be a successful month for this trader as they earned +7.83%. In 2021, a very stable return of about 41% has been observed. Compared with the last year, the profitability has indeed dropped down, but so have the drawdowns. You can join the manager for just $1.
This provider's account is just over a year old, having been registered in June 2020. The maximum drawdown within the year did not exceed 28.53%. The yield is on the conservative side but can be described as stable for the past year. In August, the profit was not too high at 4.16%, but pair this with an insignificant drawdown of 0.37%. This speaks to the effectiveness of this trader's style. As usual, this provider trades in NZDCAD, AUDNZD, AUDCAD pairs. You can join the manager for just $1.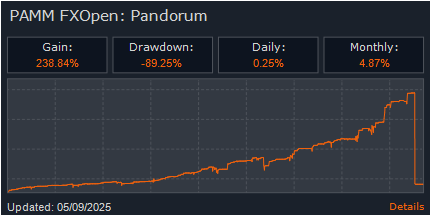 This provider registered their FXOpen PAMM account in October 2020, but we wouldn't call them a novice. The account has been demonstrating stable trading and a highly effective trading system. In August, the provider in question earned 17.03% with a maximum drawdown of 7.87% which virtually disappeared the very next day. This trader prefers long-term trading, with only 10 open trades. The max deposit load is 5%. There is no drawdown, which means that the deals are in the black. You can join this manager for $1.
This provider's account is over a year old. The trading style can be characterized as stable, and the profit dynamic is positive (except for this year's unsuccessful March). The maximum drawdown has yet to exceed 9.76%, and in August, did not exceed 2.76%. At the time of this writing, there is a small drawdown of 0.97%. Last month, the provider traded mainly GBPUSD, GBPCHF, USDJPY, CHFJPY. The yield in August was 2.01%.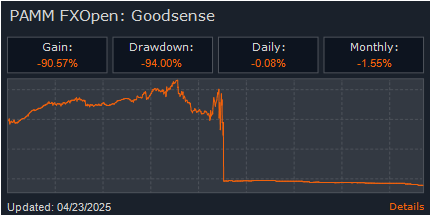 Now you are all caught up on FXOpen's rating of 10 best-performing PAMM providers who are most likely to trade profitably this fall. We hope our rating will help you build a stable and profitable PAMM portfolio. Just always remember: do not use the last of your savings, and avoid investing it all in a single account. We wish everyone the best of luck with their investments.
PAMM is not available for clients of FXOpen EU and FXOpen UK or residents of Australia.
This article represents the opinion of the Companies operating under the FXOpen brand only. It is not to be construed as an offer, solicitation, or recommendation with respect to products and services provided by the Companies operating under the FXOpen brand, nor is it to be considered financial advice.