Overview of FXOpen's Best-preforming PAMM Accounts in September 2021
We're deep into fall, but don't let the cooling weather distract you as you're choosing FXOpen's PAMM providers to add to your investment portfolio. A new wave of COVID-19 has hit the world, with currency and commodity markets suffering collateral damage. China is tightening the screws on cryptocurrencies, so increased activity and chaos are observed in all the markets. Our review of PAMM providers who outperformed their peers in September will help you make the right choice as an investor.
Also, FXOpen's Money Managers contest has been running since August 2. Traders showing stability and a drawdown up to 20% have the opportunity to earn a hefty money prize for further managing. Although we no longer accept applications, you can — and should! — monitor the managers' progress.
FXOpen's TOP-10 September 2021 PAMM Accounts
This PAMM manager's account was registered back in August 2020. They've had great success in trading so far, except for just one month early this year. Since the start of the year, this trader has been able to earn 140% in profit. In September, this provider's profitability was not too high at + 3.80%. However, the account can be considered a stable one, a fact that attracts investors. At the time of writing this review, there is no floating drawdown. In September, the deposit load did not exceed 6.21%, and there were no losses. The main trading pair is EURUSD. This provider's standard offer for joining is at least $500.
This manager has been with FXOpen since December 2019 and can be described as stable and profitable. The maximum account drawdown for the entire time has yet to exceed 17.15%, which is an excellent result for two years. In September, the maximum drawdown was 8.53%, with it reaching an average of 5.21% over the past month. These small losses were made up for, and investors were able to make a profit. The trader's main currency pair is AUDNZD. You can join the account with a minimum of $200; the fine for early withdrawal is 5%.
This FXOpen PANN account was registered relatively recently, this September, but it is already showing good dynamics. Within a month, they managed to reach 118% in profit. This trend may continue. They trade mainly gold, USDJPY, USDCHF, GBPUSD. This manager prefers an aggressive style of trading, so only risk trading lovers should consider them. You can join this provider for at least $100.
The maximum drawdown during the entire time has yet to exceed 19.78%. Positive dynamics can already be observed. Their trading is stable, with max deposit load not exceeding 18% in September, and profitability was 22.64%. This trader is dealing exclusively with gold. At the time of this writing, all deals are open, and the deposit load is insignificant at just 1.4%.
This PAMM account was registered in October 2018, so it's already 3 years old and can be confidently called a long-liver. This trader prefers to trade non-conservatively. Moderate drawdowns do occur, but the profit is generally substantial. In September, this PAMM manager was able to earn +10.07% and about 64% since the start of the year. They trade various currency pairs, but in September, they preferred GBPUSD and EURUSD. Their offer is simple: join with $50 and pay no fine for early withdrawal. In October, some trades are open and a small floating drawdown can be observed, so we recommend monitoring the situation.
This account will suit those who prefer conservative trading, and is one of the oldest on the FXOpen platform, having been launched in January 2011. Since the start of 2021, they have earned close to 13% in profit, which makes this manager enviably stable. In September, their profit was at 5.83%. They have many followers, and most of their transactions yield profit. They have several offers to choose from, so investors can choose what suits them best based on their financial capabilities. You can join this provider for as little as $1.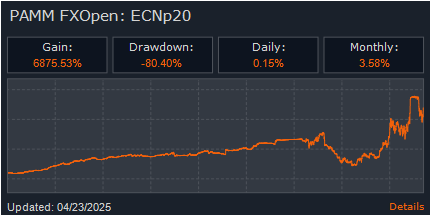 This provider was registered in June 2020 and can be characterized as consistently profitable with average drawdowns. The maximum drawdown within the account's entire history did not exceed 28.52%. In September, this trader did not earn any profit with a drawdown of 8.02%, but in early October, the losses had already been made up for. The maximum drawdown in September did not exceed 0.5%. This provider most often trades NZDCAD, AUDNZD, AUDCAD pairs. You can join them for just $1. Note that the chart suggests the operations are being carried out by an EA using the averaging down strategy.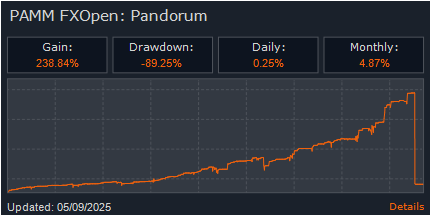 This PAMM manager has been with FXOpen since October 2020. The account is still performing well, even though August ended up as a not-so-successful month, and the manager is still trying to get out of the floating drawdown. In September, they were able to earn 7.66%, and since the beginning of the year, the profit amounted to 92.75%. If we analyze the daily equity, we will notice that this provider prefers the long-term strategy, since their trades are always open. At the time of writing this review, a floating drawdown can be observed which is, however, decreasing.
The PAMM manager has been with FXOpen for almost 2 years since December 2019. This year, they haven't been too successful, but September ended on a positive note of +22.97% in profit, which attracted our attention. At the moment, this trader seems to have been able to almost get out of the summer drawdown and is trying to continue the positive trend. The deposit load is just 2%, and the maximum drawdown is 8%. You can join this trader for as little as $100.
This interesting and promising PAMM account was launched this April and is already showing positive, low-drawdown profitability dynamics. The drawdown is yet to exceed 6.78%, but the yield is approaching 48%. The deposit load in September was 16%, the maximum drawdown was only 0.97%. Last month, the trader earned +6.47% trading the EURUSD pair. You can join them with a deposit of $1000. There is no penalty for early withdrawal.
This was a list of FXOpen's most promising providers we recommend considering for your portfolio as 2021 enters its home stretch. It's vital to monitor the most profitable PAMM accounts and, if the month is disappointing, replace some accounts with those that show more stable and positive trading. We wish you the best of luck in your trading!

PAMM is not available for clients of FXOpen EU and FXOpen UK or residents of Australia.
This article represents the opinion of the Companies operating under the FXOpen brand only. It is not to be construed as an offer, solicitation, or recommendation with respect to products and services provided by the Companies operating under the FXOpen brand, nor is it to be considered financial advice.