Overview of FXOpen's Best-performing PAMM Accounts in November 2021
FXOpen's TOP-10 November 2021 PAMM Accounts
It's the beginning of the winter season, and, with less than a month left before the long-awaited holidays, every investor's goal is to make sound, profitable, low-drawdown investments. It is also high time we summarized FXOpen PAMM accounts November results, so we bring to your attention our most attractive PAMM providers. Feel free to monitor their activity and add them to your investment portfolio.
Before we start, here are some numbers: as of the beginning of December, 148 PAMM-provider accounts on the FXOpen platform have accumulated 3,229,379.00 USD in investment capital.
One of the most experienced providers on the FXOpen platform with a concise level of deposit load, evidenced by low drawdowns. November's earnings amounted to 12.72%. Over the long haul, the provider has demonstrated stable profitability: since the beginning of the year, this PAMM account manager has yielded over 200% in profit. According to the trader, they operate manually and employ technical analysis to catch a reversal and/or a good entry opportunity. You can join this offer for as little as 100 USD.
The provider has been trading on the FXOpen platform since August 2019, that is, for more than 2 years. The maximum drawdown for this period has yet to exceed 31.95%. This November, the trader earned 19.29% in profit. The deposit load for the month did not exceed 9.3%. At the time of this writing, no deals are open. This trader uses a 1:100 leverage. You can join them for 10,000 USD.
FastWay has been active on FXOpen for 2 years already and can be characterized as a stable and profitable manager. Since the account's launch, the maximum drawdown has yet to exceed 17.15%. In November, the account earned a profit of 7.92%. The drawdown in November did not exceed 5.33%. Over the year, the account's profitability has reached over 80%. This manager mainly trades AUDNZD and NZDCAD currency pairs. You can join this account with a minimum of 200 USD; the fine for early withdrawal is 5%.
This manager registered their FXOpen PAMM account back in June 2020. Most likely, they are using the averaging down strategy. The start of the fall period wasn't too successful for this provider, but Pandorum managed to end November with a profit of almost 6%. Over the past 1.5 years, the maximum drawdown has yet to exceed 28.52%, and in November, it did not go over 6.25%. At the time of this writing, no floating drawdown is observed. This provider most often trades NZDCAD, AUDCAD, AUDNZD currency pairs. You can join them for just $1.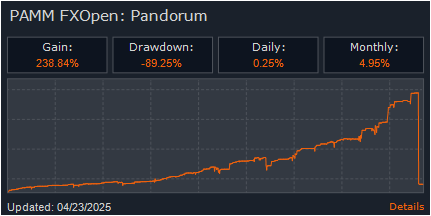 This year, this provider managed to prove themself. Their only trading instrument, #NDXm, is generating good returns for investors in the long term. In November, the account earned +5.38%. In 2021, the profit has already gone over 70%. Their offer is especially appealing to novice investors who can follow this manager with as little as 1 USD.
This PAMM manager has been with FXOpen since October 2020, having recently celebrated a one-year anniversary. The account is demonstrating good results, having reached and even gone over 100% profitability by the end of the year. In November, the manager was able to earn 15.87%. They prefer trading GBPUSD, GBPCAD, USDJPY, EURAUD, EURCHF, EURGBP, EURUSD currency pairs. If we analyze the daily equity, we will notice that this provider prefers the long-term strategy, since their trades are always open. At the time of writing this review, a floating but gradually decreasing drawdown can be observed.
This FXOpen PAMM account was launched in October 2020. The manager is yielding highly stable results, most likely facilitated thanks to their fairly efficient trading system. In November, the deposit load did not exceed 7.4%; the manager earned 9.01% — but experienced a significant, albeit brief, maximum drawdown of 15.77%. At the time of writing this review, there are some open trades. You can join this manager with just 1 USD.
This PAMM provider has been trading on our platform since December 2015. After disappearing from our sight for quite a while, they have re-entered our rating. Their trading in 2021 can hardly be described as stable, however, the chart hints that the trader might have recently adjusted the strategy of their EA, making their account profitable once again. In October, the drawdown was pretty significant, but the trader was able to recover and earned +51.56% in November. The trades are still open, although the floating drawdown is insignificant. The minimum investment to join this account is 20 USD, while 75% of the income is received by the investor.
Since registering their account, this provider has shown different dynamics, but in 2021, their style evolved into a more conservative and stable one. As of now, the trading is carried out with leverage of 1:100. The risks have been curbed, and in November, this manager earned +3.27%. The deposit load did not exceed 5%. Over the year, they earned over 20%, preferring trading AUDNZD, AUDCAD, NZDCAD, EURAUD, EURNZD, AUDCHF cross-pairs. At the time of writing the review, a drawdown can be observed, but the deposit load is minimal.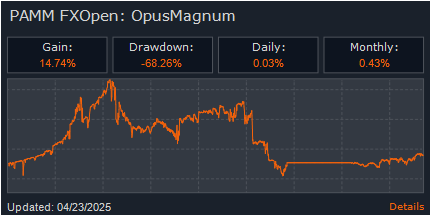 This is another potentially attractive new provider who registered their FXOpen PAMM account in September 2021. October and November turned out to be very successful for them in terms of profitability. Last month's profit was +16.95%. The max account drawdown did not exceed 6.32%, paired with a minimum deposit load. Trading is being carried out mainly in XAUUSD, EURUSD, GBPUSD, USDJPY pairs. You can join this provider with at least 50 USD.
We listed some of the best and most stable providers for potential investors to consider and add to their portfolio as 2021 is ending. Keep in mind that it is vital to track the most profitable PAMM accounts and add them when the time is right.
And, finally, remember that drawdowns are inevitable, and it would be wise to diversify your investments.
Interested in following FXOpen's most successful PAMM accounts? Register on our platform ➜ Open your Investment Account ➜ Choose your provider and offer ➜ Become a Follower.
We wish you the best of luck with your trading!
PAMM is not available for clients of FXOpen EU and FXOpen UK or residents of Australia.
This article represents the opinion of the Companies operating under the FXOpen brand only. It is not to be construed as an offer, solicitation, or recommendation with respect to products and services provided by the Companies operating under the FXOpen brand, nor is it to be considered financial advice.